Barnicoat Developments
Barnicoat Developments provides rental opportunities located at 5 - 9 Kotua Place, Stoke Nelson.  It consists of a variety of buildings, all structurally sound and able to be modified for purpose built businesses. We can be contacted on 03 543 9400 or 0274 424 500. We also have training rooms available for hire.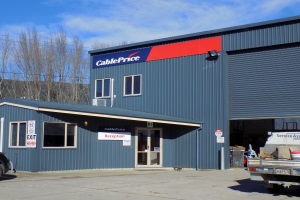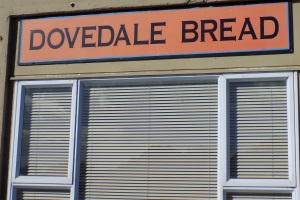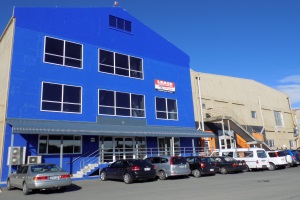 Leasing opportunities are also available on the 2nd & 3rd floors of our buildings, with magnificent views over the bay and towards the Mt Arthur ranges.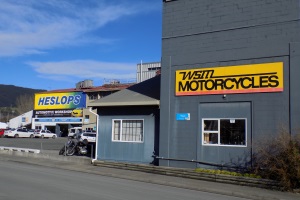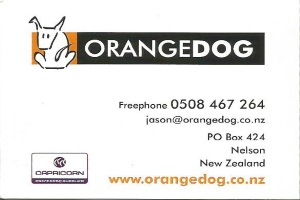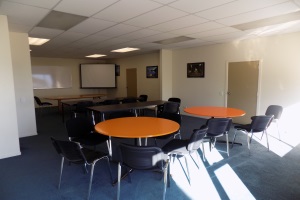 History
Barnicoat Developments Ltd is the wholly owned company of Lloyd Heslop and Trustees incorporated in November 2001 for purpose of property development opportunities of the Old Freezing Works complex occupying the site at 5-9 Kotua Place, Stoke, Nelson.  It consists of a variety of buildings, all structurally sound and able to be modified for purpose built businesses. Valuation area is 29143 sq m.
For many years it has been apparent that our growth would eventually require another shift to larger premises.  We have been searching for the ideal site for almost 10 years and have spent considerable time and resources looking at different alternatives. Early in 2000, we made the decision that our current site was physically unable to cope with any more staff. 
We were conscious of our long-term customer requirements for off street parking, centrally located and were unable to meet all of their needs.  We also wished to promote additional added-value services that could be mutually beneficial.  Services such as lock-up facilities, more environmentally friendly vehicle washing facilities, a pick-up/delivery service for after hours services, giving confidence to the customer that their vehicles was reasonably secure overnight.
The benefit for us of on-site parking would be a captive market, where we could offer complete services and take the worry from the customer about whether a light bulb had blown or the small oil leak discovered on the ground was fixed prior to the customer's 3am start. This could only be achieved by having on-site parking. 
Early in 2001, Lloyd was offered the old freezing works site on an "as is, where is" basis. Undaunted, he saw beyond the derelict buildings and looked towards a future development.  By November 2001, we were committed to the establishment of a dream - the resurrection of a site that should have been demolished and the resurrection of an entire transport complex.
The hero of this project is Pete Boyd. 
Pete came to us in August 2001 on the strength of an adult apprenticeship advertisement.  His talents were already known to us and rather than taking him on for the apprenticeship role, we recognized that he would make an excellent project manager but the timing was tenuous.  We had not signed the sale and purchase agreement, but negotiations were well down the track.  Pete was put "on hold".  He was told of the potential project and gave his verbal commitment, "just give me a couple of weeks and I'll be there".  On the same date in November 2001 that we signed the agreement, Pete was employed.  His brief was to protect, preserve, recycle, on-sell and minimize building costs while maximising on-site opportunities. The project could not have been completed as economically or on target without Pete's control.  Pete was later ably joined by Mark Moorhouse who has taken on the role of maintenance of the site.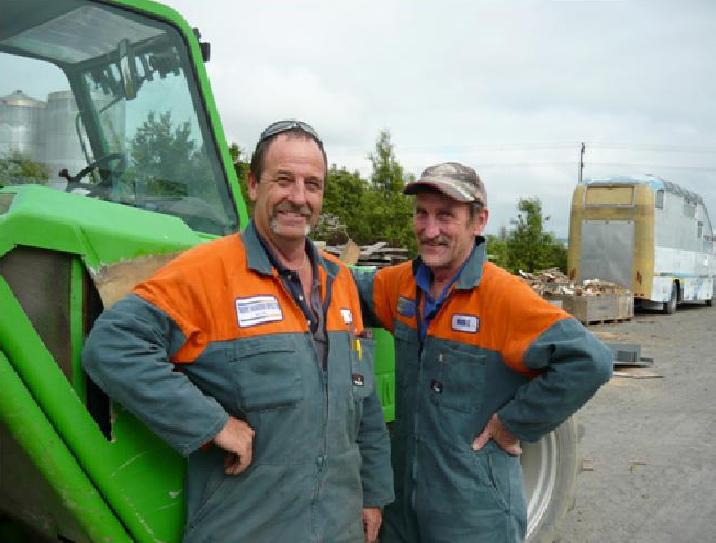 Pete Boyd               Mark Moorhouse
With 7 acres to play with we had room for all the features we required plus add on services catering for every need in the transport industry. 
2001-2002
Meet with targeted businesses to lobby for support of the project
Investigate environmental issues and resource consent criteria
Ensure hazardous substance protection from reported ammonia and asbestos
Commence demolition of buildings needed
Promote recycling activities husbanding all reusable resources
Discuss with appropriate planning committee of the District and City Councils
Prepare business plans and discuss with potential financiers
Valuation report and environmental impact report prepared
Legal contracts with appropriate partners
Commence drawing up of building plans
Prepare site for sub-leases
Employ project manager – welcome to the effervescent Pete Boyd
Purchase earthmoving equipment and appropriate tooling
Structure and stage demolition work – engage demolition contractors
It was always clearly understood that we may have been purchasing a site where there contaminants could render the area as a biological hazard.  Engineers were engaged to assess the structural soundness of the buildings and environmental reports were commissioned.  To our delight, the buildings were declared structurally sound with the exception of some buildings which were tagged for demolition under our plan.  Equally, the area was free of all contaminants – no traces of asbestos or ammonia, however, there were a couple of pipes that were extremely unhealthy and polluted.  These were quickly dealt to by our demolition team.  Of note, as builders have worked throughout the buildings, there have been areas which have caused considerable discomfort, but these were few and far between.  Health issues were discussed with our contractors and employees ensuring that all employees had Hepatitis protection.
2002-2003
Strip buildings and store reusable materials
Relocate dry goods building to become the first leased workshop
Renovate the Health centre for Duncan Borlase transport to lease
Set levels for areas to be redeveloped
Recycle or sell demolished materials from building site
Plan site requirements for essential services including future IT requirements
Purchase of additional equipment and engage building personnel
First lease workshop operational October 2002 (Transport Engineering workshop)
Finalise building plans for Heslops workshop
Call for tenders
2002-early 2003 was an extremely busy time for all. Lloyd and Pete worked on site 24/7 while the Management team continued to operate Lloyd Heslop Motors, Entech and set-up schematic budgets and financing for Barnicoat Developments Ltd. 
It was during this time that builders and contractors rates were escalating, prices were spiraling and we could not get a firm commitment as to when builders would be available nor were we able to obtain fixed quotes, making financial borrowings extremely difficult as the bank wanted definitive values, however with each estimate we received, we would have to add at least 30% to cover escalations.
Solution: hire our own builders.  Our employee base rose by another eight people.  One of the delights of the exercise was the relationship we developed with the Volunteer Community Trust where we engaged five people with various levels of disabilities.  These people were engaged in fetching, carrying, sorting and cleaning of wiring, piping, wood and anything that was pulled from the buildings.  One of their regular jobs was to pull nails from Rimu planks to enable us to reuse or on-sell.  One of the employees stayed with us for 2 years and another went on to work for one of our contractors. 
2003-2004
Complete Heslops workshops
21 February 2004 – relocate Heslops
On-site diesel tank facilities purpose-built and funded by Shell New Zealand
Prepare site for truck wash facilities using 50,000 ltr tank collecting water from the roof of the main workshop building at Heslops
Prepare site for Entech's relocation
Prepare site for car workshop relocation
Purpose built area for bakery Eat Right Ltd – organic cookies
Once the major task of Heslops relocation was completed, our focus was concentrated on making Barnicoat Developments Ltd a financially viable business. Extensive funding had been required and equity was marginal.  During December 2004/January 2005, the Westpac bank had a major personnel shuffle and without warning, our key account manager was no longer there.  The bank then called for plans, budgets, quote, estimates and projections, all of which had been supplied albeit after many of the events.  We had developed a trust relationship which suddenly was tenuous. We received a letter to advise that funding was being "reviewed". With borrowings as large as Barnicoat had required for development, Heslops had been underwriting considerable costs and cashflow was tight. One Wednesday came where it was not known if wages were able to be paid.  Electronic payments had been made earlier in the day but it was known that it would be declined that night. At 4.30pm that day, we had a visit from our new account manager, Tony Pratt, who assured us of continued support.  Except for that one incident, Westpac has been extremely supportive of our endeavors' and a wonderful trust relationship has been firmly re-established. 
 2004-2008
Prepare rental areas for the following businesses:
Stuart Drummond Transport Ltd – heavy transport operation based on-site with Heslops servicing their fleet
TD  Haulage – heavy transport parking facilities – Heslops service their fleet
Cable Price Heavy Equipment workshop – Hitachi brand – long relationship with CablePrice through the SCANIA product
Current Generation – gen sets and alternative fuel generators
Hawken Engineering – on-site precision engineering
Ernest Enterprises – on-site general engineering
Orange Dog Ltd – printing business – reciprocal trade
The Fishing paper - Coastal media – reciprocal relationship through the Helicopter business and advertising opportunities
 With the current economic climate, building and redevelopment has slowed, however, there are always plans and ways to manage our development around any economic influences.  The joys of Barnicoat Developments progress has been watching Lloyd's vision become a reality.  It is doubtful that anyone could see as clearly the potential as Lloyd and transform a mess into a modern clean functional office space. It was often of concern and considerable worry that Lloyd simply started with an idea in his head, there were no firm plans, just a dream that would be passed over to Tom McGowan, our draughtsman, and from there the concept would become a reality. Plans would be submitted to the Nelson Council who also struggled with believing what was possible and it would be numerous months/years, with wasted resources, frustrated builders and soaring costs before a building permit was approved. 
Recent valuations have shown 275% return on the initial investment. Not a bad outcome for a pig's ear!